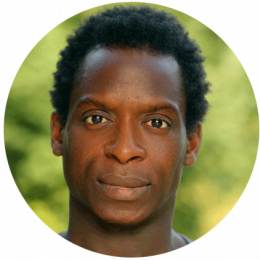 Kobna Holdbrook-Smith
20s-30s. Strong, warm voice with an ability to move seamlessly from street to RP to African. Excellent US.
Kobna Holdbrook-Smith is a film, stage, television and voice actor. He has played numerous lead roles for BBC, Sky, and ITV. Notable films include Mary Poppins Returns, Paddington 2, Ghost Stories, Justice League, and Dr. Strange. In 2019 he won an Olivier Award for Best Actor in a Musical (as Ike Turner in Tina the Musical). He is an associate at the National Theatre and was a co-founder of the Act For Change Project. Kobna voices the best-selling Rivers of London series and has worked on many high-profile Audible projects, reading Nicholas Nickleby for their Dickens Collection and playing Doctor Watson in Sherlock Holmes – The Voice of Treason.
Click here to listen to our interview with Kobna for The Squadcast.