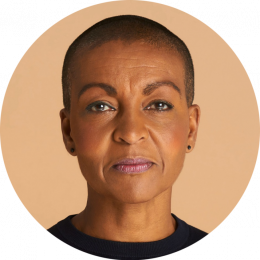 Adjoa Andoh
20s-50s. Mid-tone. Witty & versatile - everything from RP to African and beyond.
Adjoa Andoh is a well known and hugely popular television, theatre and movie actress, director and voice artist. She is familiar to TV viewers for her iconic performance as Lady Danbury on Netflix's Bridgerton, as well as long-running roles on Casualty and Eastenders, and a recurring role on Doctor Who as companion Martha Jones' mother. She also starred in the 2009 movie Invictus, with Morgan Freeman and Matt Damon. Her theatrical work is extensive; she directed the first ever company of women of colour in a Shakespeare play on a major UK stage for The Globe, taking the lead role of Richard II. Adjoa is an in-demand voice actress, having recorded hundreds of audiobooks, including the entire No. 1 Ladies' Detective Agency series and Naomi Alderman's The Power. She is also the narrator of Channel 4's Chateau DIY.
Click here to listen to our interview with Adjoa for The Squadcast.
Video Clips