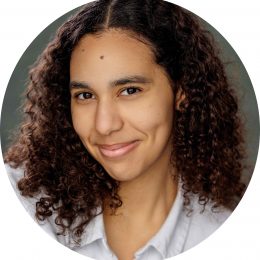 Chloë Sommer
20s-30s. Clear, confident, and charismatic. A young voice with depth and maturity.
Chloë Sommer is a British Actress, Singer, Spoken Word Artist and Poet of Mixed-race heritage (Black, Native American & Jewish), originally born in Israel but raised in London. Chloë is a 2022 BBC Carleton Hobbs Winner, graduating from Italia Conti's BA Acting course in 2022. Since graduating, Chloë has worked in the BBC Radio Drama Company, featuring in a range of BBC Audio Drama productions and other BBC projects. Her BBC credits include: The Seagull, 50 Berkeley Square, Charles Paris: So Much Blood (starring Bill Nighy), Harland – Series 2, Microserfs, The Fall and Rise of Reginald Perrin, War of Words and Archbishop Justin Welby: A Meditation for the Queen.
Chloë features in the Netflix children's animation series Spirit Rangers and for this performance, has been nominated for the 2023 Entertainment Globalization Association Hermes Award for Best Voice Performance for an Animated Series. Recent credits featuring Chloë's original performance work include: Keeping It Kosher (The Other Palace), and RUSH (National Youth Theatre).